As specified in the BISFed International Boccia Rules
All testing devices required to conduct a tournament must be approved by the BISFed Technical Delegate and or Head Referee of each sanctioned event.
The ball must be allowed to roll under its own weight down a 290mm ramp consisting of a pair of aluminium bars centred 50mm apart. The ramp will be set at 25 degrees to the horizontal. When the ball exits the ramp, it must travel at least 175 mm in a straight line along the exit plate. A ball will pass if it exits the device on at least one of three attempts by falling off the exit plate.
The circumference of the ball should be 270 mm +/- 8mm and will be tested using a BISFed STANDARD template (of thickness 7 – 7.5mm) which contains two holes: one hole with a circumference of 262mm and one with a circumference of 278mm.
The weight of the ball should be 275 g. +/- 12 g. Each ball will be tested using a scale accurate to within 0.01g.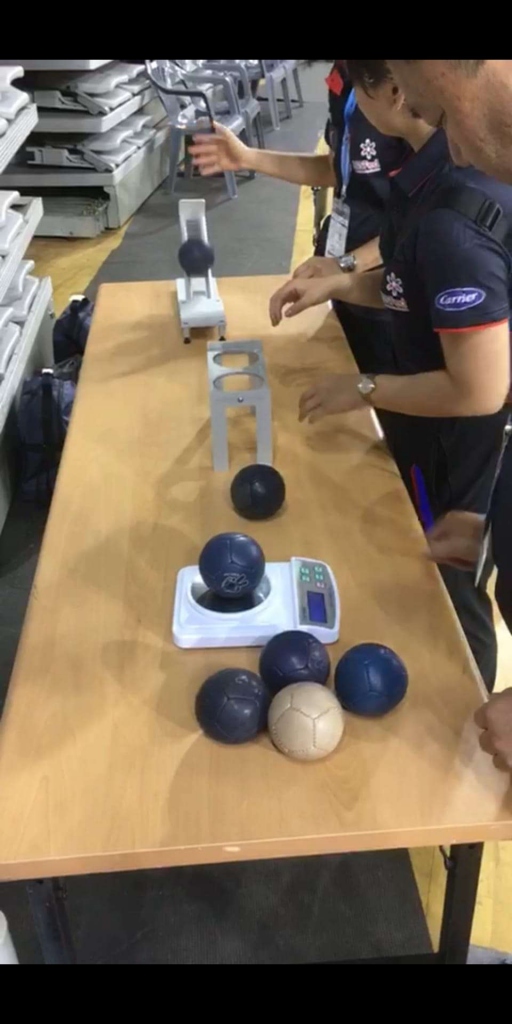 For many years, the development of boccia balls which are used in competitive play has led to ever softer balls being used at competitions. Many athletes and coaches started to question the legality of some balls because they were so soft and also often not available on the open market. This resulted in a situation where an athlete's equipment could give a significant playing advantage. This problem arose because earlier versions of the boccia Rules did not eliminate the use of such balls.
BISFed has always been clear that we want a 'level playing field' where the athlete's skill is the most important factor in determining the result of a boccia match. The matter was discussed at the BISFed General Assembly in 2014, and a motion was passed by BISFed's Members which required BISFed to find a solution. 
In response, BISFed commissioned Loughborough University (LU), a world leader in sport research and technology, to conduct a study and to advise on a solution.
LU carried out a 2-Stage project: Stage 1 was an extensive consultation exercise with BISFed Members, athletes, coaches and manufacturers which confirmed that there was indeed a problem. 
In Stage 2, LU used standard competition balls provided by 10 boccia ball manufacturers to devise a solution. The University's advice was that a new rule which tests how a boccia ball performs is required.
The recommended solution is the new BISFed Ball Roll Test which is described above and which has been included in the 2017 Boccia Rules. (It is worth noting that over 98% of the balls supplied by manufacturers passed the new test.) BISFed is confident that introducing the new test from May 2017 will eliminate most of the super soft 'balls' which cannot accurately be described as balls.
The BISFed Test Kit containing one Roll Test device and one aluminium circumference testing template can be ordered from here. The complete testing kit can be dismantled into a compact box for easy transportation. The cost of the Test Kit will be £180 for members and £230 for non-members, plus delivery, and where applicable, value added tax.
Click on the order link. Orders will be dispatched in the order they are received.
BISFed will send an invoice together with payment instructions.
On receipt of payment, the orders will be dispatched by courier to arrive within 5 days.
With the aim of ensuring that balls used at World Boccia competitions are available to all athletes, from January 2022, boccia balls used in major sanctioned boccia competitions (i.e. World Championships, World Series events and Paralympic Qualifiers) must be supplied by a BISFed Approved Equipment Supplier and that from January 2023, Licensed balls must be used for ALL BISFed-sanctioned competitions.
BISFed has approved the below Manufacturers as suppliers of Licensed boccia balls for BISFed-sanctioned competitions from 2022 to 2024.